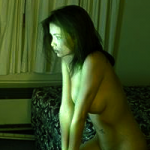 Greetings all. It has been a while, but between the holidays and a little piece of news I'll discuss more later, I have had a busy 2013 so far. But enough of that, you're here for the animation. This is actually a piece I'd created and written last year but I wasn't happy with the story. So, I shelved it for a while and took another pass at it later and was much happier with the results. I'll discuss it a bit more below, but why don't you go ahead and check out Cheap Room.
Some time last year, I started perusing Tumblr and quickly discovered an enormous amount of material that was just waiting for me to get my hands on it. In my own searches for new material, I very often just hop between online freebie galleries. Looking for new images on Tumblr is beneficial in the sense that some person has already hand-picked a collection of images, usually of a similar theme. This makes my job much, much easier. I come across an image I like and I can browse through that user's other images and perhaps find other material thats just as good.
I've already upload several new pieces of work that originated there, but I mention it because this image was the very first one that I snagged from Tumblr. So it seemed a timely story to tell.
As for the image itself, I just love everything about it. The room, the pose, the facial expression…I just couldn't be happier with what's going on in the photo. Subsequently, I didn't change very much at all…only made additions. In the end, the thing I really focused on was writing a story that really conveyed some of the sense of emotion that I had the first time I laid eyes on it.
Hope you enjoyed it and, as always, your comments, questions, and suggestions are welcome.