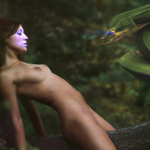 My proclivities for snake-on-woman mind control are nothing new. I've explored that territory a couple times now, its a sub-genre of erotic mind control that I do enjoy, but good source material is hard to come by.
Probably because its so scarce, I snap up every opportunity to indulge this particular facet of my fetish. And so, with that in mind, I have a new Kaa-inspired animation to share this morning.
Given that I'm quite certain that famous scene in The Jungle Book, lit the fire on my appreciation for Kaa-hypno, its somewhat ironic that it took three snake-mc manips before I was able to find imagery that truly pays homage to it.
Better late than never, here's Rocking.