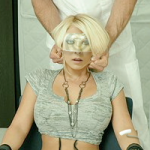 I don't know about you, but I'm feeling downright spoiled about having so much new material to post. A few weekends ago I had a rare combination of free time and mass-quantities of inspiration. From that, these last few updates were born.
Today's animation is an entry into a time-tested EMC convention: the intrepid reporter nosing around where she shouldn't be. Click here to check out Scoop, then read on for my director's commentary.
This was an image, I just came across recently (as in the past six months) but was immediately struck by the inherit drama depicted. Although the original photo had a nice expression on the blonde's face, I found one slightly better in another photo from the series. From there I started adding props which originally was just going to consist of a brainwashing visor, but something about the clinical setting drove me to really pay off the technology these nefarious mind controllers might have access to. Following that idea led to the full compliment of mind-bending devices that appear in the final piece.
As for the story, I was second-guessing myself a bit fearing that the aforementioned snoopy-reporter premise might play less as EMC convention and more as EMC cliche. In the end, I decided to trust my instincts and write the story that the image had originally inspired.
And speaking of inspiration, I need to acknowledge Loveknot by trilby else, Community by Tabico, and thrall's A Ten Pack Of Trixies; they were all on my mind while I was developing this one.
As always, your comments, questions, and suggestions are welcome. Thanks for reading.