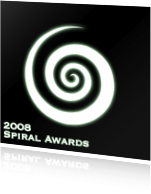 2/28/09 UPDATED to include a link to the official Spiral Awards website which got left out of the original posting by Captain Proofread…sigh.

Looking back over my (semi) weekly picks blogs, it really struck me what a great year 2008 was for mc fiction. I discovered some new writers, had plenty of great material from my-long time favs, and discovered plenty of tasty tales along the way.
So why don't you join me and head over to the official site of the 2008 Spiral Awards and nominate your favorite authors and stories from last year. Nominations are open now in the following categories:
• FD – Females controlling males
• FF – Females controlling females
• MD – Males controlling females
• MM – Males controlling males
• Mixed – Mixed or unspecified controllers
You can nominate up to three entries per category and nominations are open until March 6th at midnight (GMT-6). The top five in each category move on to the final vote and after that…glory everlasting.
The authors who work so diligently and so graciously share themselves and their art with all of us deserve our support. So, please, take a moment to nominate your favorite writers or stories from 2008, its just a small way to say thank you to all the talented people who give us all so many wonderful stories to share and enjoy.