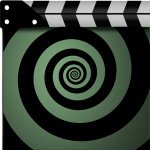 Happy 2015 everyone! I hope your holiday seasons were as enjoyable as my own. As many of you have come to suspect, when I don't post here, I'm usually working on something. When I don't post for months at a time, I'm usually working on something big. I got a message on Tumblr last week from someone who was curious about what I might be up to.
infielders3 said:
Haven't heard from you about what you are up to or seen any of your manips since your post in October. Have you been working on anything? A clip? A series? A lone GIF? I do enjoy the pictures you post, but they aren't the reason I keep coming back. I look forward to your exquisite work!
Firstly, thank you for those kind words. Secondly, your note was exceedingly well-timed as things have just fallen in place for me to be able to tell you exactly what I've been working on: I'm directing a mind control fetish film!
I've been hinting about this in a couple of recent blog posts but what I wasn't hinting at was how close I was to making it happen. I've had a script finished for months, have been organizing the production, and securing sets, props, etc.
However, this past week saw the biggest milestone (thus far) with the completion of casting. After interviewing and auditioning a number of actresses I am pleased to inform you that two lovely and talented ladies have signed on to the picture!
With that, pre-production on Opening Statement is winding down and we're preparing to shoot the film in just a little less than a month. I don't have a definite release date yet, but I'll be keeping all of you informed of the picture's progress over the coming months.
And, I'll be posting more details (very) soon about the cast, the story, and what I have planned for the picture. For now, I'm just excited to finally share what's been occupying my attention these last few months. More details are coming, stay tuned!
As always, your questions, comments, and suggestions are welcome.