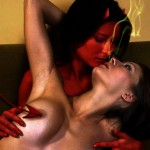 In the event you don't know, my friend Tera is quite a remarkable lady. Last week, she crossed quite a milestone: 40,000 posts at the Hypnopics Collective. While my own efforts aren't quite as impressive as the manip she made to commemorate the occasion, I thought I'd put together a little something to help celebrate the event.
The source pic I found recently, during a particularly fruitful day of scouring for images. I didn't know quite what to do at first, but a little succubi inspiration was all it took to get me going on the image. The story, I wrote this evening while tinkering with the last few aesthetic details. A bit wordy perhaps, but I never seem to be as pithy as I'd like to be.
Besides, its not about me, its about Tera: the woman who's far too humble to acknowledge what a cornerstone of the mind control community she really is. Tera: who whips htaccess files in to submission and bends php to her will (and probably looks quite saucy doing it <wink>). Tera: who, I am honored to say, is my friend.
<big hug>
Congratulations Devil Woman.