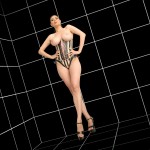 Welcome back dear reader. As we move into August, I am juggling more freelance work than I can shake a stick at, and yet, somehow, I'm also making measurable progress on the animated manip project I've been telling you about. So, I'm back with another quick tease of my latest venture and a little peek behind the curtain at the process of putting it together.
As I've hinted at previously, this new manip is quite complex. In the past, I've done plenty of photoshopping in order to make elements fit together the way I need. Once or twice I've even pulled a character out of a photo and dropped them into an entirely new background. However, in order to really achieve what I want with this new manip, I've had to go a step further and create an environment from scratch.
As you can see in the teaser image above, I've completely removed the original background from behind my subject. The next step is to place her in a virtual set created in 3D and set up my virtual camera to recreate the perspective from the original photo. I've got some temporary grid walls standing in for the background so you can't see them, but I also have to use virtual lights so the new background I'm creating will match the direction and quality of light that's hitting the subject.
The immediate goal that I've been working to achieve has been getting the virtual set created and integrated with a 3D model that will be visible in several frames. As a proof-of-concept, I've selected one panel from the series and completed a full set up with camera and lights just to verify that everything I'm planning to do will work properly. I'm very pleased to tell you that I crossed that milestone this evening and am now ready to proceed, full steam ahead.
From here, I have to create similar set ups (camera, lights, etc) within my virtual set for each of the panels in the series. Once that's finished, the work shifts to masking all the subject's poses from my source pics to drop her into the virtual set. Finally, I integrate the animations that I mentioned previously and tackle the detail work, special fx, etc; then, finally, write the caption for each frame and drop those into the completed panels.
Its still to early to give you any idea of a release window, but things are really moving under their own power now. I've crossed the two biggest hurdles in the whole process and from here on out its just using the assets I've created to start fitting all the pieces together. For now, I hope you've enjoyed this brief glimpse behind the scenes and I'll see you again with another update.