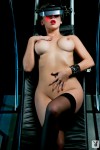 Now, if you're a South Park fan, you're probably already saying "They tikk ur jerb!" If you're not a South Park fan, that joke goes a little something like this.
Now that we've got that out of the way…
So this past week I came across a few photos from a Playboy shoot of a model named Sydney Barlette wearing a set of VR goggles and looking…well looking like she was being programmed with some sort of sexiness. I grabbed the images in question, thinking it would make for a quick manipping session. Lets face it, if I don't have to add the brainwashing goggles myself, there's not much left to do other than write.
So, having saved the images, I was closing the browser tab and my eyes just happened to glance over a bit of the text description informing me that I should join Playboy Plus to view the full res images…
…along with the video.
I literally, not figuratively, did a double take and scrambled to reopen the page I'd just closed. Some photog at Playboy put a woman in a brainwashing contraption (c'mon, no one's buying this as a vr-themed shoot), took some pictures, and then shot video of it. I had to see it. I could not stand the idea of such a video existing and not seeing it.
It took some time, but I eventually tracked down a copy that someone uploaded to a vid sharing site and my jaw hung open for three minutes and change as I saw one of the most pure realizations of my particular EMC fetish flavors play out on-screen. Now, to be sure, I'm using my imagination a little…but only a little.
The vid itself plays out like a dubstep music video inspired by…erotic mind control. I keep looking at it and trying to see what was intended but to me all I see is a thinly veiled fantasy of a woman being brainwashed into a sex pet by another woman. You know what? I'll shut up and stop describing it now so you can see for yourself:

Sydney Barlette Her Virtual Reality by bigtitfan10
You see? Playboy is making it harder for manip artists to work. How am I supposed to transform pics and videos of women into pics and videos of women being mind-controlled if Playboy makes them mind-controlled to being with?! They took my job!
I love that show, I really do.
Anyway, the photographer's name is Jared Ryder and to him I can only say "thank you." Thanks for basically putting what's in my head on-screen for me, and everyone, to enjoy. But don't think for a second I'm not going to manip this vid. 😉
I may only be using my imagination a little…but when I'm finished, less is definitely going to be more.