For all those out there that aspire to do their own manipping, Photoshop can sometimes seem an intimidating prospect. Its a complex program which can make for a steep learning curve if you don't have some grounding in it to begin with. This week, Lifehacker is running a series of posts to get you trained up in the tools and techniques of the world's most famous image-editor.
Don't have Photoshop? Don't worry. As the article and accompanying video explains, knowledge of the toolset is applicable across a wide variety of Photoshop alternatives. And speaking of which, if you're on Mac, I highly recommend you check out Pixelmator. Its an image editor that's been kicking around for several years and is showing great signs of maturity with every update. With the launch of the Mac App Store, Pixelmator is available at half of its original cost; running a very reasonable $30 (but only for a limited time). The devs note that if you buy now, you'll get a free upgrade to v2.0 when it launches this year.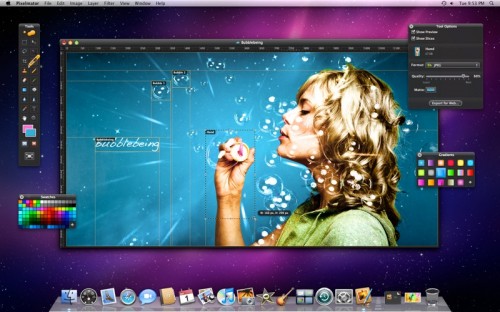 I've been playing with Pixelmator this evening and I'm very impressed at how far this program has come since the first version I tried out years ago. While there are still some key Photoshop features I miss (vectors, layer styles, and deeper typography options), the actual image editing tools are absolutely comparable with Photoshop's. If you're a budding manip artist, I'd highly recommend downloading the free trial and giving it a spin.
That's all for now. Happy manipping.