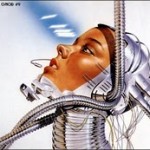 If you're anything like me, you're getting tired of all my excuses for not updating things here more often. Everyone's busy, I just don't handle it as well as most people I guess. Having said that I have been quietly working behind the scenes trying to keep things moving forward. To that end, one of the updates I've had in the making for several months is now online.
I'm very pleased to announce that a brand new interview with seminal mc author thrall is now live in the interview gallery. An influential force in erotic mc fiction by any standard of measure, thrall is smart, funny, and delightfully honest about her kinks. So grab a cup of your favorite winter-time beverage and settle in for an entertaining and insightful talk with this marvelously talented lady.
Click here to read my interview with thrall.
Speaking of gracious and talented ladies, I would be remiss not thank another of mc erotica's finest talents and that is my dear friend Sara Castle. In addition to wowing all of us with her own spicy blend of mc fiction, Sara shares my love for the interview and has her own chat with thrall posted at MC Garden.
In our many correspondence, Sara and I have established that we share more than one or two favorite authors. So, its no surprise that we find ourselves sitting down to talk with many of the same people. What I do find surprising is how closely our line of questioning matches sometimes. While we have never shared notes on our interviews and I kept myself from reading her talk with thrall until after my own interview was concluded, I'm now laughing myself silly that we've managed to ask almost identical questions in several instances.
In any case, I want to thank Sara for being so gracious and allowing me to "share" interview subjects with her. 😉
Thanks everyone for the continued support and encouragement through my long, dry spells. I don't get to post here nearly as much as I'd like to but I do have some tasty things in the works and am eager to share…soon I hope.
Until next time.