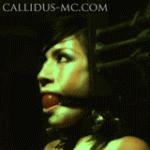 I'm horrible about not posting for ages and ages. Partially because I'm ADHD and partially because it takes time to do what I do and when I don't have anything finished, I don't have much to post. So, I'm trying to shake things up a bit today with a tease of something I've been working on here and there.

I have an idea of what the finished product might end up being but I'm still working on all that. This was just a quick experiment to test a couple of techniques that I'm thinking will end up getting used in the final piece. I've included a "PG" GIF alongside the full-monty version, for those who might be interested in sharing to locales where nudity is an issue.
Please to enjoy and imagine.