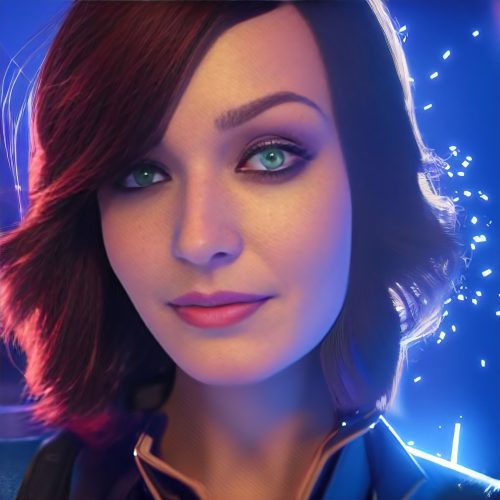 Hi everyone!
First, let me say, it all comes down to tacos.
Taco moments. That's what Callidus and I call those times when we both have the exact same thought, are on the same wavelength. Which comes in pretty handy when you are writing together, believe me. For two people as outwardly different as we are, Callidus and I have A LOT of those taco moments.
I had never written in collaboration with anyone before, thinking it could never work, as stubborn and protective as I am about what I write. It took about 20 minutes to change my mind.
I knew of Callidus and his amazing manips, writing and artwork all the way back to 2015(!!) when he reviewed one of my stories on Episode #2 of The Black Room podcast, which was only the second I had posted on the EMSCA. Took another couple of years before we met and became friends. I don't remember exactly how it came up, but he was telling me about a project he had rattling around in his brain about a retro sci-fi heroine named Jette Jones he had started to put together. He asked me if I'd mind reading his fairly extensive outlines (lovingly referred to as "the Jette bible") and early story draft.
I loved it.
Now, I'm not a sci-fi geek, although I knew the basics – Star Trek (the Kirk ones), some Star Wars, Ray Bradbury, Blade Runner, etc. – and I was really excited. He knew exactly where he wanted to go with it, and I wanted to be on that ride.
That was 2 ½ years ago. Whoa!
And it has been more fun than I could have imagined. Easily the most fun I've ever had writing. But, beyond that, it's because of WHO I'm writing with that has made it that way. Callidus has spoiled me. The dude is not only extremely talented, he's just flat-out cool. In more than 140,000 words, we've never had an argument, rarely have opposing ideas about where to go. Sure, we disagree. But usually Cal lets me have my way. (Just kidding, kinda)
In fact, the writing has been split right down the middle. Maybe you'd be surprised who wrote some bit of sci-fi or sexiness. We each contribute to sections written primarily by the other and we just love getting both our hands all over the MC, the smut, the photon blasts and the occasional heart-tugging moments.
Jette's our Captain Kirk, but with a badass 'tude and a butt to die for. She's by far the most enjoyable character I've ever laid my hands on. I hope you all have your favorites among "our girls" as Cal and I call them. We really love them, even when we mindfuck them. Often.
So for those of you out there who have been waiting patiently through our semi-hiatus – 2022 is best forgotten on many levels – fear not: Jette Jones and her intrepid crew are in for a rockin' 2023. We've already mapped out big chunks of not only our upcoming fifth adventure but also our sixth, which should take us roughly through 20 issues of C&C Comics and most of 2023.
As Jette might say, "We have a plan."
We hope you enjoy and thank you!
connie