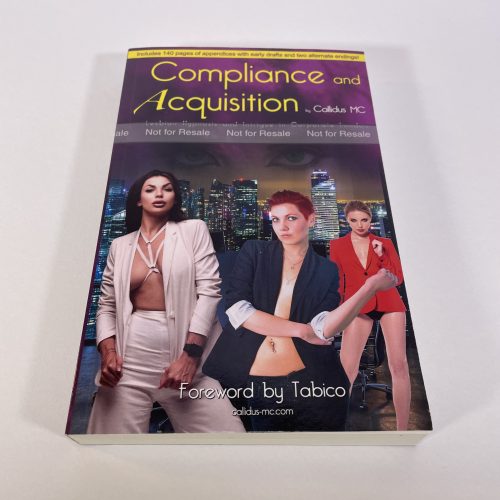 **UPDATE**
The book is live on Amazon and available for purchase now! Thanks to all the early birds who picked up a copy !!!

Welcome back all!
I've been hard at work since we last talked on preparing Compliance and Acquisition for release on Amazon. Things are shaping up very nicely and I'm getting super excited to share this book with you all!
I want to kick things off by talking about the supplemental material that's going to be included in the book release. Last time we spoke, I asked you all to weigh on a poll question regarding what sort of bonus features you'd like to see included.
Current Poll Question
What sort of additional content would you be most interested in seeing within an eBook or Paperback?
Some words from another author discussing the story
An in-depth retrospective of how the story developed and evolved
Sharing deleted scenes and abandonded ideas that didn't make the final edit
An author's commentary section that features bits of insight and trivia about various scenes, bits of dialog and plot points
A Q&A section where I'd answer queries from readers relating to the story
Other (message me or leave a comment)
And by the way, thank you to everyone who voted and shared their comments!
Given the clear interest in seeing deleted scenes and abandoned ideas, that's been my area of focus the past month. I've gone back and pulled out my old manuscripts, given them a bit of polish and put together an Appendices section that's over 140 pages long!
First up, is a look at the original, darker ending that I originally mapped out for the story. This includes an alternate version of chapter 9 and a sketch of what chapter 10 would've been had I taken the idea to completion.
Next up, is a trip on Willy Wonka's freak out boat ride. As I mentioned on this blog last year, my first draft of C&A was wildly dissimilar to the final version that was released. The second act took Lily and Samantha in a totally different direction. While it was a fun trip down the rabbit hole, it also didn't feel like the same story as Chapters 1-3. I took some time off and ended up rewriting everything from that point forward.
So, in the paperback and eBook release, I'm going to share those original chapters in their entirety! It's almost a complete alternate copy of the book! This version, too, features a darker ending than the final story and it's been fun going back and pouring over this material again.
I'm looking forward to seeing what you think when the book drops… on Tuesday, Oct 19th! Initial pricing will be $9.99 USD for the paperback and $4.99 USD for the Kindle eBook. And speaking of the paperback… here's a little peak at the first proof copy I ordered from Amazon to give you a taste for how great it's turned out!
I'm certainly eager to have a copy sitting on my book shelf and I hope you are as well! I'll keep you posted as we draw closer to release day. Until then, your questions, comments and suggestions are welcome!