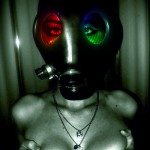 Welcome back everyone. I've been working on a commission job this past week so I'm a bit late updating but I hope the wait will have been worth it. Read on for my Director's Commentary but, for now, please go check out Ridges.
My original round of gas mask manips were really fun to work on. So much so that I promised myself I'd revisit the territory again when the right source material presented itself. Since I've been haunting Tumblr recently, I've mined a lot of great images that I've tucked away for future smutiness.
When I came across this image I knew immediately what I wanted to do with it. The original photographer really paved the way by making sure the inside of the mask was lit so we could see the model's eyes. I knew I wanted to see what was going on inside the mask. All of my previous manips hinted at the assault of light and sound inside the rubber but now I'd get a chance to show it off.
So, it was very fun to work on in that sense. Thanks for reading, stay tuned for some very big news in the coming weeks and, as always, your comments, questions, and suggestions are welcome.